Welcome to The Blackadder Wiki!
This wiki is all about the British TV Sitcom Blackadder, which anyone can edit! We are currently editing over 436 articles!
The Blackadder Wiki is here to honour Blackadder which was written by Richard Curtis, Rowan Atkinson and Ben Elton. Blackadder was on the BBC for four series as well as number of specials. This wiki covers everything about the series from the characters to episodes and everything else that appears in the saga.
So what are you waiting for? Go on, get stuck in there!
Characters from the four series of Blackadder!
Our goal is to make a comprehensive guide to everything Blackadder. This includes make pages for all of the Blackadder episodes, all of the characters, all of the actors and merchandise. We aim to make the most concise Blackadder guide on the internet!
This wiki is ever expanding and will do so until the end of time.
If you want to help out, why not sign up today?
Featured Article
Lieutenant The Hon. George Colthurst St Barleigh is a young British Army Officer in a First World War trench, serving under Captain Blackadder and with Private Baldrick. He is portrayed by Hugh Laurie.
Personality
Lieutenant The Honourable George Colthurst St. Barleigh MC, is a frontline officer who joined the army on the first day of the World War I, along with nine other students. The ten men named themselves the Trinity College tiddlywinks, or the "Trinity Tiddlers". It is revealed later, in the fourth series' finale, that George is the only surviving member of the group.
This article has been randomly selected from all of our articles. Each time you visit our site, you should see a new article here. For more information about it, click on read more. The resulting page will be the original article to be able to read the rest of it.
Some of the best pictures on the wiki!
The latest pages on the wiki!
Your feedback will be used to help us improve the wiki!
Featured Image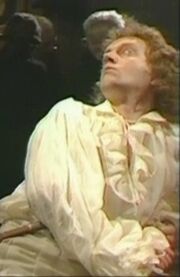 This image has been randomly selected from our archives. Each time you visit our site, you should see a new image here. For more information about it, click directly on the image. The resulting page will detail when it was uploaded, by whom, and often overview which articles use that particular image.
Please feel free to upload as many images as you like. Have fun!
Trivia
Trivia coming soon!
Bet you didn't know that, did you?